TENNESSEE WILDLIFE VIEWING TRAIL » Middle Tennessee


Haley-Jaqueth WMA

Site Directions: From 840 south of Nashville, take exit 42 and head south on US 41/31A. When the highway splits, bare right and stay on 31A towards College Grove, approximately 2 miles. The WMA is primarily on the east side of the highway or on your left as you head south. Just before the intersection of College Grove Rd and US 31A there is a large red barn on the left with a pull off. This is one access point. A sign is on the barn for the WMA. There is also a sign on the roadside ~1 mile north of the barn, however it is behind a fence and grown over with vines.
Barn - Lat: 35.78899°N Long: -86.67350°W
Hours: day light hours
Seasonality: year round
Fees: none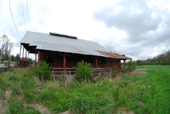 Old barn on Hwy 41/31.
Site Description: Forested tree lines break up agricultural fields across this small 200 acre site. A couple creeks, occasionally dry, run through the property. Low wet areas may provide habitat for shorebirds. The Harpeth River passes through the middle of the WMA and when water is low, this may be a nice exploration hike.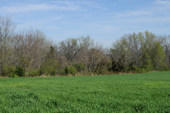 Wildlife to Watch: Wild Turkeys can be seen in the fields and forest edges. A Great Blue Heron rookery is present along the Harpeth River in the middle of the WMA. Eastern Phoebe nests under the bridge on the county line on College Grove Rd. Early successional birds such as Field Sparrow, Indigo Bunting, Northern Cardinal, and Mourning Dove are common in summer. Blue-gray Gnatcatcher, Eastern Kingbird, Northern Bobwhite, and Barn Swallows can be found. Barn Owl may be present in the barn.

NOTE: Please refer to TWRA Hunting Guide about hunting seasons and public access dates. Access dates vary by site.


Submit your data to eBird and help us build a list of birds seen at this site


Be sure to check out our Safety Tips page for important information regarding viewing wildlife in these areas.