Critter of the Month
Critter of the Month - MAY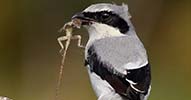 LOGGERHEAD SHRIKE
The Loggerhead Shrike is unusual among songbirds in that it is a predator of large insects, lizards, mice, snakes and even other songbirds. It uses its hooked bill to kill prey adn then often impales them on thorns or barbed wire so they can rip them apart or save them for a future meal. This species was once faily common in Tennessee but it has been rapidly declining. Estimates indicate that over 70% of the population has disappeared in the last 40 years. Fortunately a group of conservatonists are working to find out why this bird is disappearing in Tennessee.
Loggerhead Shrikes are a robin-sized, gray songbird with a relatively large head, distinct black mask and a stout hooked bill. Males and females look the same and both parent tend to the young.
They are a grassland bird preferring short and tromped-down pastures with isolated trees or thorny shrubs that they use for perching, nesting, shelter and impaling their prey.
Please help Southeastern Avian Research and the Nashville Zoo by reporting any sightings of Loggerhead Shrikes to eBird or to routleges@bellsouth.net. The nearest road intersection or a lat/long will work wonderfully!!
Thank you!