Critter of the Month
Critter of the Month - JULY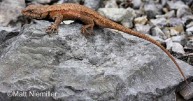 Eastern Fence Lizard
The eastern fence lizard occurs statewide and can be found in a variety of habitats. But will most likely be found in dry, open forests, on fallen trees, stumps, rocks and rock piles and on fences.
This medium-sized, wide bodied grayish to brown lizard is the only spiny lizard in Tennessee. It has keeled, pointed scales with wavy lines across its' back. Males of the species will also have bright blue patches, bordered black along the throat and belly.
The eastern fence lizard's diet is primarily insects such as ants, beetles and spiders. It occassionally will also dine on snails.
Like all lizards these guys like to bask in the sun to warm themselves.
One of our most arboreal lizards here in Tennessee, they can be found dashing up a tree and hiding on the opposite side to avoid predation.