Critter of the Month
Critter of the Month - AUGUST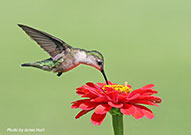 Ruby-throated hummingbird
The Ruby-throated hummingbird is the only known hummingbird to breed in Tennessee. Arriving in early April and departing by late October these facinating birds are the smallest avian species in North America.
The male has ruby red throat and irridescent green back while the female has a white throat and duller green back. Young hummers resemble females.
The female is the 'work-horse' of this species. She's soley responsible for raising the young. She chooses the male she prefer to mate with, builds the nest, lay 2 tic-tac size eggs, incubates them and feeds the young until they fledge. Studies now indicate that while feeding young female ruby-throats are already building another nest nearby. In Tennessee they can have 2-3 broods per summer.
80% of a hummingbird's diet consists of soft-bodied insects. The remainder is nectar that they gather from tublar flowers and man-made feeders.
Hummingbirds have a long migration journey. These 3 gram birds fly thousands of miles to reach their wintering grounds in the Yucatan Pennisula and then return each spring to their feeding and breeding grounds to produce the next generation of hummingbirds.