Critter of the Month
Critter of the Month - AUGUST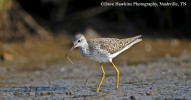 Lesser Yellowlegs
The Lesser Yellowlegs is a medium-sized, active, shorebird with a distinctive 'tu tu' call. With bright yellow legs it forages in the water along mudflats running to catch it's prey. Fairly common in Tennessee in the appropriate habitat, the breeding range extends from central Canada westward through Alaska and South America, the West Indies and the southern United States.
The body of this bird is grey brown on top and white underneath. The neck and breast are streaked dark brown. The bill is dark and only slightly longer than the length of it's head, which is a useful field mark when attempting to distinguish it from the Greater Yellowlegs.
Lesser Yellowlegs dine on aquatic and terrestrial invertebrates with a special taste for flies and beetles. It will occasionally eat seeds and small fish.
Both males and females provide parental care for the young, but the females tend to leave the breeding area before the chicks can fly leaving the male to defend and care for them until they too take to the wing.