Critter of the Month
Critter of the Month - October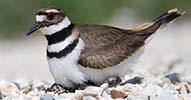 The Killdeer
The Killdeer is the most widespread and recognizable shorebird in North America. Easily recognized by the two dark bands on its chest and by its kill-deer call. These shorebirds take advantage of man-alerted habitats such as athletic fields, lawns, gravel parking lots and mudflats near lakes, ponds and rivers. A year-round resident here in Tennessee, Killdeer's breeding range extends across Alaska and Canada and south to southern Mexico and in winter from southern Alaska across the upper U.S. south to northern South America.
The killdeer is a medium-sized shorebird that is brown above, white below with two dark bands across its chest. It has a large round head, large eyes, short neck and moderately long legs. Males and females look the same.
They dine on terrestrial invertibrates such as earthworms, grasshoppers, beetles and snails found while foraging on the ground.
In Tennessee, the killdeer have one of the longest breeding seasons of any bird in our State; from late winter to mid-summer often raising two broods each season. Clutch size ranges from 3 to 5 eggs which are laid in a simple scape in the ground. The young often leave the 'nest' within hours of hatching and are tended to by the adults for up to 40 days.