Critter of the Month
Critter of the Month - JULY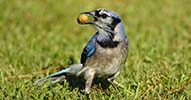 BLUE JAY
Once considered a bird primarily of the forest the Blue Jay can be found in a variety of habitats. From decidious woods and mixed forests they are now commonly seen in in urban and suburban backyards.
The Blue Jay makes a variety of sounds including a loud schrill jaaaay, a repeated jay, jay, jay, a beautiful whistled warbling toodali and many clicks and rattles. They are also experts at imitating the Red-shouldered Hawk.
The Blue Jay's diet includes arthropods, acorns, nuts, fruits, seeds and small vertebrates. They are also frequent visitors to bird feeders.
One fun fact about a Blue Jay's feather is the color is not from pigment, but rather is the result of light refraction within the internal structure of the feathers. If a Blue Jay feather is crushed, the blue disappears as the structure is destroyed.