Critter of the Month
Critter of the Month -
JUNE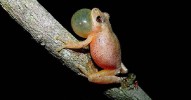 Spring Peeper
Common and widespread in Tennessee the spring peeper and it's familar high-pitched piping whistle...peep, peep, peep...is familar and loved by many. Thought of as a harbinger of spring along with the chorus frog, this tiny frog is heard and almost never seen.
From just over half an inch to one inch this browish gray frog gets its scientific name Pseudacris crucifer from the dark 'X' which marks it's back.
Spring peepers can be found in wooded and brush areas close to temporary or semi-permanent bodies of water. Although they are good climbers they prefer to stay on the ground in the leaf litter. This species is an insectivorous, eating small insects, ants, beetles, flies and spiders.
Breeding in freshwater they prefer ponds or pools without fish. Females lay between 800 and 1,000 eggs in clusters. Eggs are attached to submerged vegetation and usually hatch within 2-3 days. Metamorphosis of tadpoles takes 3-4 months and spring peepers are sexual mature at one year.