"Downy vs. Hairy Woodpecker "
Downy woodpecker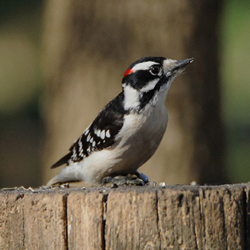 Downy Woodpecker - The smallest and most common woodpecker. Its small size, white back, small stubby bill and tame demeanor are distinguishable features of the Downy Woodpecker.
• 6.5 inches in length...Sparrow size bird.
• Stubby bill - bill shorter than depth of head
• White outer tail feathers with dark spots
• Downy says "pick". Listen to song and call HERE.
Downy woodpecker has a significantly smaller bill than a Hairy Woodpecker. The length of the bill is less than the width of the head, while Hairy Woodpecker has a much longer bill.
Hairy woodpecker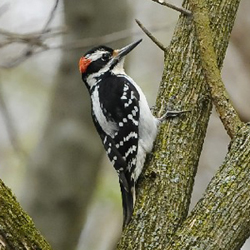 Hairy Woodpecker - The Hairy woodpecker is larger overall, it has a large exaggerated black bill, is more vocal yet shy and aloof.
• 9 inches in length...Cardinal size bird yet chunkier
• Larger bill - as long as head is deep
• Clean white outer tail feathers lacks dark spots
• Hairy says "peek". Listen to song and call HERE.
-Hairy Woodpeckers have significantly longer and stouter bills than Downy Woodpeckers. The bill on a Hairy Woodpecker is as long as their head is wide.
Downy (female, left) and Hairy (female, right)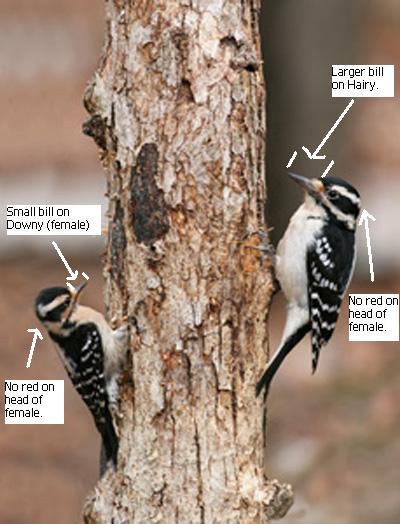 Downy (female, left) and Hairy (male, right)