"Red-tailed Hawk vs. Red-shouldered Hawk"
Red-tailed Hawk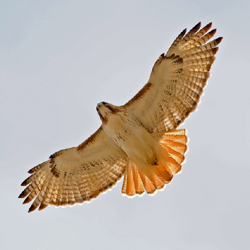 Red-tailed Hawk – The Red-tailed Hawk is one of the most widespread and commonly observed hawks in Tennessee. It frequently perches in trees along roadside and is more likely to nest in wooded residential neighborhoods than other hawks. This large, stocky hawk has a pale chest and dark band across the belly, and a reddish unbarred tail.
· Slow deep wingbeats
· When soaring wings in a slight dihedral position.
· Appears "stockier"
· Wide rounded wings with a dark leading edge
· Broad round, rufous tail
· White underparts including throat with a streaked belly band.
Go to Red-tailed Hawk species page
Red-shouldered Hawk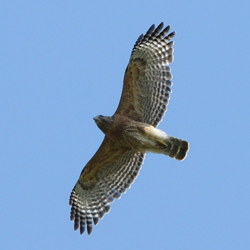 Red-Shouldered Hawk - This common forest-dwelling hawk is often found near water and can be seen soaring and calling loudly and repeatedly. This is a fairly large hawk, with black and white striped wings and tail, a mottled brown back, and orange barring on the breast.
· Heavy black and white bands on tail and wings.
· Translucent crescents or "window" at base of primaries when in soaring.
· Dark rufous shoulders and wing linings.
· Rufous red underparts.
· Flight is accipiter "like" – quick shallow wingbeats followed by a period of gliding.
· Wingtips droop slightly
· Longer tail