"Carolina Wren vs. House Wren"
Carolina Wren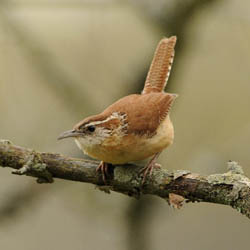 Carolina Wren - A small bird with rusty upperparts, cinnamon underparts, and a distinct white eye-stripe. The male and female are identical in plumage, but males are often slightly larger.
· Stocky and large-headed sparrow size bird.
· Very bold white stripe above the eye
· Warm rusty brown above and buffy cinnamon below
· Dark brown bars on wings and tail
· White chin, throat and upper breast
· Song is a bold "teakettle, teakettle, teakettle"
House Wren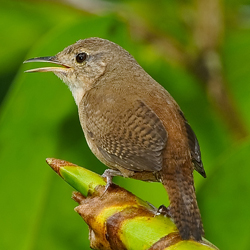 House Wren - The House Wren is overall dull grayish-brown with darker barring on the wings and tail. The eyebrow line is faint, the bill is thin and slightly de-curved, and the tail is longish and often kept cocked.
· Overall brown, darker above and lighter below
· Pale streak above the eye
· Light eye ring
· Back and wings have dark narrow dark barring
· Long bill, yellow at the base and black at the tip
· Narrow black barring on tail
• Song is an energetic, flutelike melody of gurgling outbursts