"Tennessee Warbler vs. Orange-crowned Warbler "
Tennessee Warbler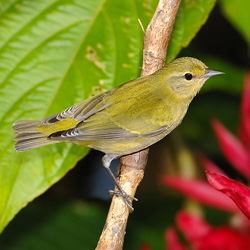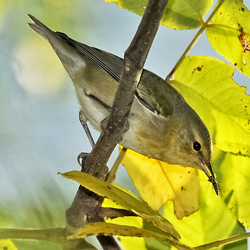 Tennessee Warbler – This small drab songbird has a thin white line over the eye, an olive-green back, and is white below with a gray wash to the sides. It has no wing-bars, tail-spots, or eye-ring. The male and female are similar in plumage, but juvenile birds are overall more yellow.
· Appears slim, with long wings and a shortish tail
· Narrow, pointed bill
· Gray head does not contrast with greenish back
· Unstreaked throat and breast; whitish washed underparts
· White undertail coverts
· Bold white stripe over eye
Female
· Washed with green on back
· Often showing a hint of a single wingbar
Tennessee Warbler species account
Orange-crowned Warbler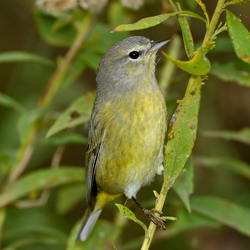 Orange-crowned Warbler– This small drab-colored warbler is olive-green above, yellowish below with faint streaks, and has a yellow under-tail. The head has an inconspicuous orange crown, for which it was named. It lacks wing-bars and tail-spots. Females and juveniles look similar but are even duller.
· Duller
· Thin, pointed, slightly decurved bill.
· Orange head patch (hard to see)
· Often has "blurry" streaking on throat and breast.
· Green wash to underside
· Yellow undertail coverts
· Broken eye ring
· Grayish head color does contrasts with the greenish body.