"Golden-crowned Kinglet vs. Ruby-crowned Kinglet"
Golden-crowned Kinglet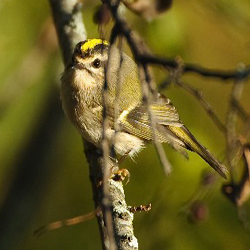 Golden-crowned Kinglet- The Golden-crowned Kinglet has grayish-olive upperparts, whitish underparts, two white wing-bars, a broad white eyebrow stripe, and a yellow crown patch bordered by black. The male and female look the same except the male has an additional patch of orange feathers within the yellow crown.
· Boldly striped face.
· Black stripe through the eyes, white eyebrow.
· Black and yellow crown; orange center in males.
· Underparts more gray-white than Ruby-crowned
Golden-crowned Kinglet species account

Ruby-crowned Kinglet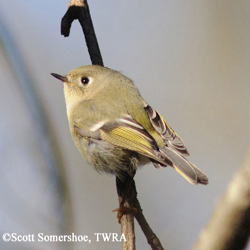 Ruby-crowned Kinglet- Both the male and female have grayish-olive upperparts; dull olive underparts, two strong white wing-bars, and a broken, white eye-ring. The male has a scarlet crown patch, which is usually concealed unless agitated.
· Bold eye-ring
· Darker wings and tail with white and yellow edges
· Red crown spot
· White only at the wingtips.
· Tail is stubbier - so much so that tips of toes may extend beyond the end of the tail.
· Hold wings level when soaring and do not teeter from side to side.