Moss Island WMA
About 14 miles NW of Halls, TN and east of the Mississippi River adjacent to TN Highway 181 Dyer County, TN
Site Directions: From Halls, TN take TN Highway 88 west about 14 miles to the intersection of TN Highway 181 (Great River Road). At this intersection, go north on TN Highway 181 about 3 miles. Turn right on the first gravel road (at a 4 way intersection) on your right (there is no sign). Follow this road into the management area.
Lat: 35.9585°N Long: -89.6103°W
Hours: Daylight hours
Seasonality: year round
Fees: none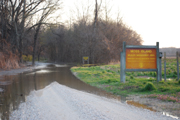 Entrance road to Moss Island when the Mississippi River is high and floods nearly the entire WMA.
Site Description: The 3,400 acres of Moss Island WMA contain a great variety of habitats from mature forests to agricultural lands and reforestation. Some open bodies of water and wetland areas are also present. Access is by a primary all weather gravel road and various secondary roads. Roads are well maintained. Access may be limited by the level of the Mississippi and Obion Rivers, which can flood over the roads. Do not attempt to drive through flood waters.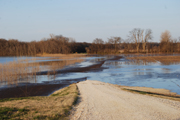 View from the Great River Road when access to Moss Island is blocked due to flooding.

Wildlife to Watch: The variety of habitats present insures that a wide variety of birds will be seen on the area. Over 187 species of birds have been recorded at Moss Island WMA. Deer and turkey are common. Loggerhead shrikes can be seen year round. Short-eared owls may be seen in winter at dusk in the fields on the south side of the WMA just off the Great River Road. In August 2009, 2 Roseate Spoonbills occurred on the WMA.

Moss Island WMA has a high density of woodpeckers, including Hairy and Pileated Woodpeckers. Red-headed Woodpeckers are less common, but found year round in some locations.

NOTE: Please refer to TWRA Hunting Guide about hunting seasons and public access dates. Access dates vary by site.

For more information:
Bird List for Moss Island WMA


Submit your data to eBird and help us build a list of birds seen at this site


Be sure to check out our Safety Tips page for important information regarding viewing wildlife in these areas.