Gooch WMA
Just east of Obion, TN along the Obion River, Obion County, TN
Site Directions: The site has several access points. Unit A can be easily accessed from U.S. Highway 51 near Trimble, TN by taking the Trimble exit (Highway 105). Follow Highway 105 east to Trimble, approximately 1 mile, and at the first intersection with a small gas station, make a left on 211. There are dead end signs and follow the old road 1.8 miles to the entrance on the right. Highway 211 does not cross the Obion River (going into Obion) as many maps indicate.

Old Turnpike Rd access is east of Trimble. Follow Highway 89 east for 5 miles to the community of Mason Hall. In Mason Hall, make a left on Old Turnpike Rd and follow north into forest and over the Obion River. Several side roads can be used to access the area from Old Turnpike Road.
Parking area off 211 in Unit A: Lat: 36.23138°N Long: -89.19454°W
Seasonality: year round
Fees: none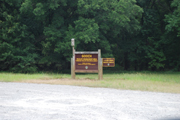 Entrance sign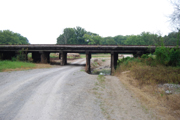 Low bridge to pass under
Site Description: The 7,000 acre WMA contains a diverse mix of bottomland habitats including some beautiful swamp areas. Unit A (see map of Unit A) is the most accessible area with gravel roads through forest and swamp. Other units are accessible only via boat or hiking through areas without trails. Access to Unit A goes under a low bridge, so use caution if taking the high ground road under the bridge. The observation platform as indicated on the Unit A map has not been maintained and is not safe for visitors. When the Obion River is high, the entire WMA is under water and only accessible via boat.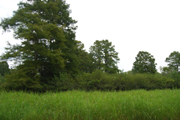 Wildlife to Watch: The diverse mix of habitats makes this a good site to see a large variety of forest birds. In summer, Summer Tanager, Red-eyed Vireo, Mississippi Kites, Indigo Bunting, and Green Herons may be found readily. Great Blue Herons occur when water levels are suitable. Cottonmouths may be seen on the roads. In winter, waterfowl can be abundant.



Site History: The Obion River was channelized in the past and original river channel no longer carries the main flow of the river.

NOTE: Please refer to TWRA Hunting Guide about hunting seasons and public access dates. Access dates vary by site.

Submit your data to eBird and help us build a list of birds seen at this site


Be sure to check out our Safety Tips page for important information regarding viewing wildlife in these areas.