South Fork Waterfowl Refuge

Site Directions: From I-40, take Hwy 412 at exit 79, north 4.0 miles and entrance is on your left.
Lat: 35.67113°N Long: -88.94430°W
Hours: daylight hours
Seasonality: year round
Fees: none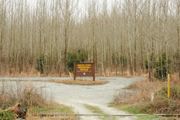 Site Description: The site is comprised primarily of early successional forest. This 778 acre property was purchased as wetland mitigation, thus no management can be done on most of the refuge. This has resulted in a densely stocked forest.

From the parking lot, walk along the lone trail approximately 100m to a right hand turn in the trail. Walk down the trail through the woods to an open marshy area that may be good for wading birds, sedge wrens, American bittern, and other waterbirds.

Wildlife to Watch: Great Blue Herons, Wood Ducks, and other waterfowl may be present in the south end where open water may be present. Beaver activity is regular on site as well.

NOTE: Please refer to TWRA Hunting Guide about hunting seasons and public access dates. Access dates vary by site.


For more information:

Contact the local TWRA - (731) 423-5725


Submit your data to eBird and help us build a list of birds seen at this site


Be sure to check out our Safety Tips page for important information regarding viewing wildlife in these areas.