Savage Gulf State Natural Area (Stone Door Entrance)
Site Directions: From I-24, exit 134 (US 41A, 64, Monteagle, Sewannee), turn on US 41A south and proceed 1.2 miles and turn left on Hwy 56. The Stone Door Entrance is accessed via Highway 56 in Beersheba Springs. Turn on Stone Door Road and proceed straight to the area's entrance. This natural area is a part of the South Cumberland Recreation Area and State Park.
Lat: 35.44791°N Long: -85.65452°W
Hours: daylight hours
Seasonality: year round
Fees: none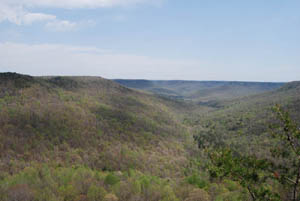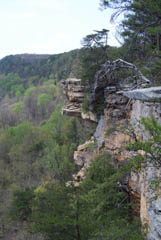 Site Description: Savage Gulf is a 15,590-acre natural area that is one of Tennessee's most scenic wilderness areas. Visitors find sheer sandstone cliffs, rugged canyons, and extraordinary views. A significant feature is Stone Door, a 10 ft. wide by 100 ft. deep crack, forming from the top of the escarpment into the gorge below. It looks like a giant door left open. This location was used as a passageway by Indians. Breathtaking waterfalls form at the head of many gorges, where streams drop off over hard sandstone cap rock. The Laurel Falls Overlook is 300 feet from the parking lot, while the Stone Door is approximately 1 mile. The Gulf is a large area that could take several days to explore all the waterfalls and cliffs. While much of the gorge is second growth forest, there is one large section of old growth mixed mesophytic forest in the gorge. The gorge forests abound with oaks, hickories, maples, yellow poplars, hemlocks, pines and many other tree species. Beneath the forest canopy is a vast array of shrubs, vines, wildflowers, mosses and ferns. The natural area is a part of the South Cumberland State Park. Savage Gulf is also on the Registry of National Natural Landmarks.
Access is by hiking only.
Wildlife to Watch: Woodland birds are common here, including breeding Wood Thrush, Hooded Warbler, Broad-winged Hawk, Kentucky Warbler, Northern Parula, Ovenbird, Scarlet Tanager and Summer Tanager. Deer may be seen and Wild Turkey are common. At dusk in spring and summer, you can hear Whip-poor-wills singing.
Wildflowers are abundant in spring. Be sure to bring a wildflower field guide!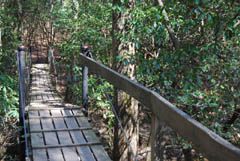 Hiking trail bridge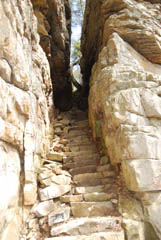 The Stone Door (which is really a passage through the rocks)


For more information:

Tennessee's Cumberland Plateau Nature Trail


Submit your data to eBird and help us build a list of birds seen at this site


Be sure to check out our Safety Tips page for important information regarding viewing wildlife in these areas.