Big South Fork National River and Recreation Area-Honey Creek Overlook
Site Directions: From Oneida, take U.S. Highway 27 south to Mountain View Road (follow the signs for Burnt Mill Bridge). At Burnt Mill Bridge continue heading west. At the intersection of Honey Creek Road and the Honey Creek Trail Overlook Road, turn right (north) and follow the Honey Creek Trailhead Overlook Road to the overlook parking lot. You will reach the trailhead parking lot before reaching the overlook.

From Jamestown, take TN 52 to Allardt. Continue heading east on Hwy 52 for 5.5 miles. Turn onto Mt. Helen Road, then Old Mt. Helen Road, following the signs for Burnt Mill Bridge. At the intersection of Honey Creek Road and the Honey Creek Trail Overlook Road, turn left (north) and follow the road to the overlook parking lot. (Burnt Mill Bridge is further east). You will reach the trailhead parking lot before reaching the overlook.
Trailhead Parking - Lat-Long: 36.42034, -84.6504
Hours: daylight hours, however some areas are open 24 hrs a day
Seasonality: year round
Fees: no fee for birding and hiking, however fees may apply for other activities
Site Description: This site is home to the spectacular scenery provided by the noted scenic overlook of the Big South Fork of the Cumberland River. The National Park Service manages this designated State Natural Area. The trail to the overlook is fairly short. However, there is also the option to hike the Honey Creek Loop Trail, which originates at the parking lot. It is a difficult trail with rock scrambling and slow travel times. Wear sturdy hiking boots and allow at least five (5) hours to complete the trail.
The gorge forest at Honey Creek is a diverse mixed mesophytic forest comprised of tulip poplar, eastern hemlock, basswood, magnolia, yellow buckeye, beech, maples, oaks and hickories and other tree species. The ever-present rhododendron thicket is common here. The upland is a typical dry plateau oak - pine forest. There are small sandstone openings that form glades on exposed bluffs.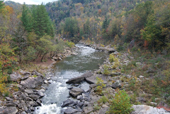 Wildlife to Watch: The site is a large, mature forest that contains a high density of Neotropical species and individuals. Some common breeding birds are Red-eyed Vireo, Ovenbird, Hooded Warbler, Indigo Bunting, Black-throated Green Warbler, Scarlet Tanager, Worm-eating Warbler, and Pine Warbler. Sharp-shinned Hawk, Swainson's Warbler, and Blue-headed Vireo are exceptional nesting birds in the area. Swainson's Warblers can be found along steep gorges with thick vegetation, but they are uncommon and not always detected. Mink may be seen in some areas. White-tailed deer and Wild Turkey are commonly seen around the park. Some overlooks can be good for migrating raptors in September and October.
Northern Saw-whet Owls can be found in winter with some regularity, but much effort is needed to locate these birds.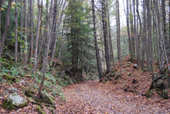 NOTE: Please refer to TWRA Hunting Guide about hunting seasons and public access dates. Access dates vary by site.


For more information:

Tennessee's Cumberland Plateau Nature Trail



Submit your data to eBird and help us build a list of birds seen at this site


Be sure to check out our Safety Tips page for important information regarding viewing wildlife in these areas.