Mount Roosevelt WMA
Site Directions: From I-40, take exit 338 (Westel) and travel south on Westel Road for 2.7 miles to US 70. Turn left and travel east on US 70 for 1.1 miles towards Rockwood. Tower Road will be on the left just before entering the town of Rockwood. From Rockwood, travel 2.1 miles west on US 70 to entrance. Follow signs for Mt Roosevelt Scenic Overlook from both directions. The Overlook and Tower are at the end of the road.
Lat: 35.85034°N Long: -84.7279°W
Hours: day light hours
Seasonality: year round
Fees: none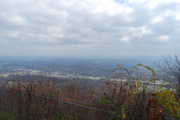 View from the overlook.
Site Description: The Roosevelt Mountain WMA is approximately 11,000 acres and virtually surrounds the town of Rockwood, TN. However, the best and easiest access point is the Overlook. The overlook (believed to be one of the highest in the Cumberlands) is a celebrated site for witnessing fall migration of not only raptors but also songbirds and butterflies. The overlook possesses a small parking area, picnic tables and observation platforms. Also, a spur trail leading to Walden Ridge Trail is located at the overlook adjacent to the fire tower. Bring a scope for better viewing birds from the viewing area atop the mountain.

There is a fire tower at the overlook; however it is fenced off to the public. If there are holes cut through the fence, do not climb the stairs. Please do NOT climb the fire tower as it is unsafe.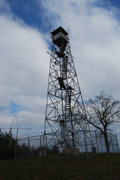 Wildlife to Watch: Watching migrating raptors in fall, such as Red-tailed Hawk and Broad-winged Hawks, can be excellent. Also find migrating flocks of Blue Jays, Northern Flickers, Black Vulture and Turkey Vultures. Butterfly migration, especially Monarchs, is impressive during spring southerly winds in fall.

NOTE: Please refer to TWRA Hunting Guide about hunting seasons and public access dates. Access dates vary by site.


For more information:


Submit your data to eBird and help us build a list of birds seen at this site


Be sure to check out our Safety Tips page for important information regarding viewing wildlife in these areas.