Raccoon Mountain Pumped Storage Plant
Site Directions: From Chattanooga, take I-24 W; take exit #174 (Hwy 41) and turn right; travel 2.5 miles on Hwy 41 and turn right at pumped storage plant sign. Travel 8.2 miles, following signs to visitor center.
Lat: 35.04678°N Long: -85.3986°W
Hours: 9am- 5pm daily, except major holidays (see TVA link below)
Seasonality: year round
Fees: none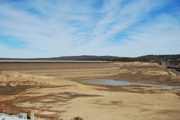 Raccoon Mountain "Lake" when empty.
Site Description: This site is a monument to Tennessee Valley Authority engineering. Water is pumped from the Tennessee River into a 528 acre man-made lake atop the mountain, where it is gravity-fed to turbines within the mountain to generate electricity. A tour of the facilities is available by taking an elevator deep underground. From the mountaintop visitor center, an observation deck provides a panoramic view of the beautiful Tennessee River Gorge. The area around Raccoon Mountain is a state-designated Wildlife Observation Area. Miles of hiking trails loop around the lake provide quite a nice hike, although they are also mountain biking trails so watch for bikers.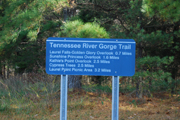 Along the drive to Laurel Point visitors will pass a parking lot for this trailhead. Leads to miles of nice hiking trails.

Wildlife to Watch: The mountaintop is home to White-tailed Deer, Woodchucks, Gray Fox, and, of course, Raccoons. Visitors may see migrating hawks, falcons and eagles in spring and fall. The lake is a good bet for Bald Eagles, Common Loons, and vultures during winter. A walk around a nearby picnic area may reveal many small land birds. In fall, hawk migration can be seen with passing Cooper's Hawk, Broad-winged Hawk, Sharp-shinned Hawk, Red-tailed Hawk, Osprey, and Northern Harriers. The most compelling wildlife attraction of the area is a large wintering population of Bald Eagles, which can be sighted from the overlook as they hunt in the woods and waters.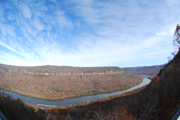 View from the Visitor's Center

For more information:

Chattanooga Chapter of Tennessee Ornithological Society site description


Submit your data to eBird and help us build a list of birds seen at this site


Be sure to check out our Safety Tips page for important information regarding viewing wildlife in these areas.