Yuchi Refuge
Site Directions: From Crossville, take 127/68 toward Spring City. Turn at Hwy 68 toward Sweetwater. Go three miles and turn right onto Hwy 302. Go 4.5 miles and turn left on Breedington Ferry Rd at Bogels Chapel. At the split in the road, Bogles Chapel Rd goes to the right and heads towards the observation tower and the river.

From Dayton, take Hwy 30E toward Decatur. Turn left on Hwy 302. Go 4.1 miles and turn right on Breedington Ferry Road at Bogles Chapel. Follow Breedington Ferry Road to intersection and turn right at intersection. Checking station is two to three miles on left at Old Bogles Chapel Church.
Lat: 35.5783°N Long: -84.84273°W
Hours: daylight hours
Seasonality: year round. Wetland Zone is closed from 15 November through last day of February.
Fees: none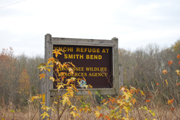 Site Description: Smith Bend/Yuchi Refuge is a unique 2,500-acre tract on the Tennessee River, with three miles of riverfront, 1,000 acres of wetland and 1,500 acres of upland forest. Paved roads pass through the refuge. Extensive grasslands provide ample habitat for shrubland and grassland birds.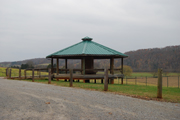 Observation tower that overlooks the floodplain, river, and bluffs.

Wildlife to Watch: The Bend is home to almost every species of wildlife native to the region. It is especially important for Sandhill Cranes and waterfowl. Though this site does not offer the same breathtaking overlooks and natural features that the Cumberland Plateau is known for, it is home to some of the very best opportunities to see a wide array of birds and butterflies. This site is also home to several unique habitats not found elsewhere in the region, such as cedar glades and prairie grasslands. This site is a must for bird, wildflower and butterfly enthusiasts. White Ibis were present in late summer 2011, while Northern Harriers are common in winter.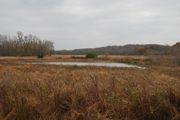 Stopping to bird watch at grasslands like this one in winter will yield a variety of sparrows and maybe some quail.

Northern Bobwhite may be seen on the roads. Swamp, Song, and White-throated Sparrows are common in winter.

NOTE: Please refer to TWRA Hunting Guide about hunting seasons and public access dates. Access dates vary by site.


For more information:

Tennessee's Cumberland Plateau Nature Trail

Birds of Yuchi Refuge from eBird submissions


Submit your data to eBird and help us add to the list of birds seen at this site


Be sure to check out our Safety Tips page for important information regarding viewing wildlife in these areas.