Chester Frost Park
Site Directions: From I-75 N, take Highway 153 N to Hixson Pike exit, proceed right on Hixson Pike for 5 miles and bear right on Gold Point Circle (look for Park signs at split).
Lat: 35.18098°N Long: -85.14885°W
Hours: daylight hours
Seasonality: year round
Fees: none, camping is available and there may be a charge
Site Description: A leisurely walk around the park roads offers good birdwatching any time of year. Views of the lake and mixed pine/deciduous forest are available. When not crowded, the park makes for quite a lovely stroll.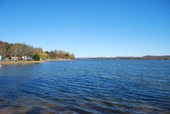 Shoreline and lake from the campground.

Wildlife to Watch: In the winter, Bald Eagles and waterbirds are seen regularly. This is a dependable site for Brown-headed Nuthatch (in the pines) and Red-headed Woodpeckers (deciduous and pine trees). During spring and fall migration many varieties of warblers, flycatchers and vireos can be found in wooded areas, and Osprey may been seen around the lake. Many species nest here each summer, and large hatches of (non-biting) mayflies bring out numerous insect-eating birds. In winter, loons and a variety of other waterfowl may be seen from the lake shores.

For more information:

Chattanooga Chapter of Tennessee Ornithological Society site description

Birds of Chester Frost Park from eBird submissions


Submit your data to eBird and help us build a list of birds seen at this site


Be sure to check out our Safety Tips page for important information regarding viewing wildlife in these areas.