The Boils WMA

Site Directions:
From Gainesboro, follow Hwy 135 (Dodson Branch Hwy) for 6-7 miles with Roaring River on your left and make a left on Overton Rd (crossing over the river). Make a left on Roaring River Rd and go approximately a mile and there will be a small parking lot on the left opposite Greenwood Ridge Rd. There are no large signs for the Boils WMA, but there are yellow WMA markers on trees.

From Cookeville, travel north approximately 12 miles on Hwy 135 to Overton Rd and follow directions above.

Lat: 36.351011°N Long: -85.564184°W
Hours: day light hours
Seasonality: year round
Fees: none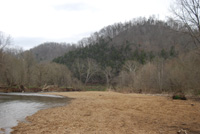 Site Description: The Boils WMA is mostly floodplain habitat along Roaring River. The parking area on the TWRA map is a good location to walk on a gravel bar in the river and take in some scenery. The southern portion of the WMA (south of Hwy 135) is mostly upland hardwood forests on steep slopes.

Driving along Roaring River on Hwy 135 is a nice drive and also leads to Roaring River Rec Area at the edge of Gainesboro.

Wildlife to Watch: Watch for wading birds like Great Blue Herons. Belted Kingfishers may be found along the river as well. In the woods and wooded edges, forest birds like Red-bellied Woodpeckers, Downy Woodpeckers, and chickadees and titmice may be found. General woodland birding is good in this area.

NOTE: Please refer to TWRA Hunting Guide about hunting seasons and public access dates. Access dates vary by site.


For more information:
The Boils WMA


Submit your data to eBird and help us build a list of birds seen at this site.


Be sure to check out our Safety Tips page for important information regarding viewing wildlife in these areas.